SILK SCARF MARBLING
Thurs, Jan 31 at 7 pm
THIS PROGRAM IS FULL. It will take place at Town Hall.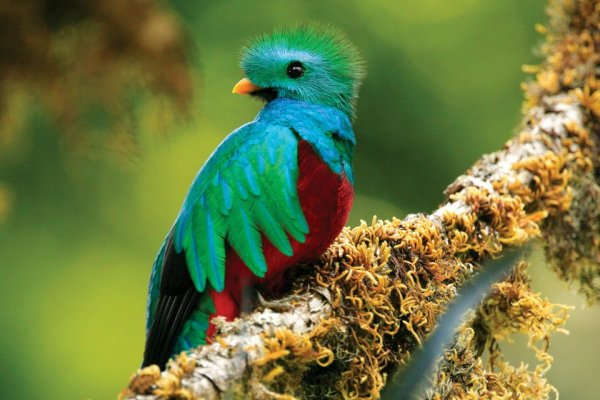 ---
THE BIRDS OF COSTA RICA
Tues, Jan 22 at 7 pm
Wildlife photographer Peter Christoph returns to share his photos of these beautiful birds. Sponsored by the Friends of the Library.
THIS PROGRAM WILL TAKE PLACE AT THE CONGREGATIONAL CHURCH AT 725 WASHINGTON ST.
---
Meditation for Healthy Living with Dr. Allan Hughes
Saturday February 2nd at 10:30am
We try to exercise and eat right to keep us fit and healthy. Doctors are now recognizing that a positive attitude and 'food for the soul' are just as important. Discover a simple meditation technique that can melt away stress and be a powerful addition to a healthy living regimen. Join Dr. Allan Hughes who has been meditating for over 30 years for this engaging workshop. Free and open to all.
---
MOVIE MONDAYS: New Films
2nd Monday of each month at 12:30 pm
Feb 11:
The Wife
: Glenn Close won the Golden Globe award for her performance as the supportive wife of an honored man. Rated R 101 minutes.
---
THE MORNING BOOK CLUB
First monday of each month at 11 am
Read the selected book and attend a discussion. Add your own thoughts or sit and listen. Attend as many sessions as you like. The selected titles are available to borrow at no charge with a valid library card. New members are always warmly welcomed. Bring a friend. Refreshments are courtesy of the Friends of the Library. Discussion leaders are Tammy Page and Leslie McDonnell. Discussions last 1 hour.
Feb 4:
Call Me American
by Abdi Nor Iftan
(PART OF ONE BOOK, ONE HOLLISTON. See below for author visit.)
Mar 4:
Fire by Night
by Teresa Messineo (The author will speak to us by Skype with a discussion to follow.)
---
KNITTING CLUB
Meets 2nd Tues of each month from 6-8 pm
Beginner to expert welcome. Work on your latest project, share tips and patterns, ask for help with problems and get advice. Come as often as you like. Free and open to all.
---
HISTORY BOOK CLUB
HOW THE CLUB WORKS
Attend as many meetings as you like. Read the selected book and attend the discussion led by Mary Miley. Bring your ideas, questions and comments or simply listen. Multiple copies of the books are available for borrowing from the library about a month in advance or can be purchased on your own. NEW MEMBERS ARE ALWAYS WARMLY WELCOME.
THE PLACE & TIME
Discussions take place in the Gilman Room on the lower level of the library at 752 Washington Street, Holliston one evening per month, 6:30-8 PM.
Membership in the book club is free and open to everyone. For more information, call the library at 508-429-0617 or email Mary at mary.miley@libertymutual.com. Bring a friend!
THE BOOKS
Jan 15: Pick your own book and share it with the group.
Feb 21:
Rise of the Rocket Girls
by Nathalia Holt
Mar 19:
Valley Forge
by Bob Drury and Tom Clavin
Apr 18: Pick your own book and share it with the group.
May 21:
The Spy and the Traitor
by Ben MacIntyre
Jun 20:
Last Hope Island
by Lynne Olson
Jul 18: Pick your own book and share it with the group.
Aug 20:
John Marshall
by Richard Brookhiser
Sept 19:
Sacred Trash
by Adina Hoffman
Oct 15: Pick your own book and share it with the group.
Nov 21: TBD
Dec 17: TBD
---
ONE BOOK, ONE HOLLISTON
Our annual community reading program
One Book, One Holliston asks the question: "what if all of Holliston read the same book at the same time?" It is a community-wide program to draw readers to important authors, books and themes and to help them share ideas and the love of reading. One Book, One Holliston takes place each February with funding from the Friends of the Library and the TD Bank Affinity program.



THE 2019 SELECTION IS ABDI NOR IFTIN'S

CALL ME AMERICAN,

HIS MEMOIR OF HIS IMMIGRANT JOURNEY FROM WAR-TORN SOMALIA TO A PERMANENT HOME IN MAINE.


The author will "visit" us by Skype on Mon, Feb 4 at 7 pm

AT THE PARKS & REC DEPT AT 1750 WASHINGTON ST.

Discussion to follow.
WHAT WE'VE READ IN PREVIOUS YEARS:


2018: Glad Farm by Catherine Marenghi
2017: The Last Painting of Sara De Vos by Dominic Smith
2016: Everything I Never Told You by Celeste Ng; The Sixth Extinction by Elizabeth Kolbert; and Misery Islands by January Gill O'Neil
2015: The Storied Life of A. J. Fikry by Gabrielle Zevin
2014: The Boys in the Boat: Nine Americans & Their Epic Quest for Gold at the 1936 Berlin Olympics.
---